In 1971 Hermann Zele, founded a road car workshop at the Teams present base in Einersdorf, Bleiburg, Austria.
Since 1997 the target has moved away from road cars towards racing cars. In 2001 Hermann Zele, a motorbike racer (Puch 250 SGS) back in the sixties, decided together with his son Michael to set up a racing team.
Following working experiance for Dr.Marko´s RSM Marko F3000 Team and the Formula Ford Team of Walter Lechner sen., Michael Zele acquired a couple of Opel Lotus 2.0 cars to compete in the Interseries in 2001. With privateers Peter Milavec (AT) and Christoph Haingartner (AT) Zele-Racing finished 1st and 2nd overall with a couple of races to go in the same year.
Building on the first year´s success, with Hermann Zele retiring and Michael Zele taking over the company, the team was heading for the all new Telefonica World Series by Nissan the following year. Both 2002 and 2003 seasons in the World Series by Nissan had a positive impact from the sporting side, but proved economically difficult. Towards the end of 2003 the decision was taken to pull out of the World Series and the focus was set on the Superfund Euro3000 championship for the 2004 season.
The ties with championship and teams´s sponsor Superfund, dating back to 2003, became stronger and Zele-Racing was entiteld to take over the development and running of the stillborn Formula Superfund prototype at the end of 2004.
From 2007 Zele-Racing is mainly focusing on customer car projects in BossGP, Interseries, European and Austrian Hillclimb championships, Formula Renault, Le Mans Series and private testing.
From 2010 Zele-Racing is also offering racing, trackdays and professional testing with its GP2/05 and GP2/08 cars. Zele-Racing competed successfully in EuroBOSS, BOSSGP and Austrian Hillclimb Chamiponship.
In 2012 the Team entered the AutoGP World Series Championship and has since scored several Podiums and numerous race wins from 2013, 2014 and 2015. The Drivers competing for Zele-Racing in over the past two years include famous names like Antonio Pizzonia (BRA), Christian Klien (AT), Narain Karthikeyan (IND), Luciano Bacheta (GB), Sergio Campana (IT), Giacomo Ricci(IT), Tamas Pal Kiss (HUN) and many more!
Zele-Racing won the 2015 AutoGP Teams and Drivers Championship in 2015 with Antonio Pizzonia (BRA) and Luis SaSilva (ANG)
2015 we entered two Dallara Renault RS 01 in the all new Renault Sport Trophy (RST) and achieved several Podiums with  our Drivers Vittorio Ghirelli (IT) / Philippe Bourgois (BE), Christian Klien (AT) / Christof v.Grünigen (CH) and Bas Schothorst (NL) / Andres Mendez (COL). Unfortunately the RST Championship folded in 2016 due to a lack of entries and the return of Renault to F1 resulting in capping the Support of the World Series Programme.
Racing activities in 2016 were only a few resulting in some more Podiums and wins in minor categories such as Porsche Alpenpokal and BossGP
2017 maked the return of Zele-Racing to International Racing fielding two cars in the Porsche Carrera Cup Deutschland and one car in the TCR International. In both Championships our cars scored high including Podiums and fastest laps.
At the end of 2017 the decision was taken to stop all racing activities. This marks the end of the Racing Team after 17 years of continuous competition in some of the highest international racing categories.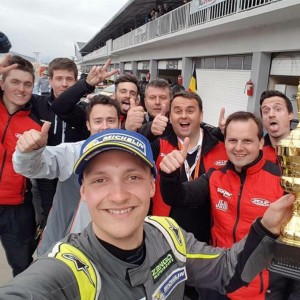 From 2018 onwards Michael Zele is working freelance with some of the best Teams and Drivers around the World in different Formula, GT an well as Touring car racing Championships such as  Superformula (Japan), Blancpain GT3 Asia, WTCR, Ferrari Challenge, Porsche Supercup, Porsche Carrera Cup (Germany, Middle East, Scandinavia), Thailand Super Series, China GT, and others
Summer 2018 also marked the passing of Hermann Zele (+ 30.07.2018)